Source of the photo
http://soils.usda.gov/use/worldsoils/mapindex/popden.html
Author of the description
Gruiz Katalin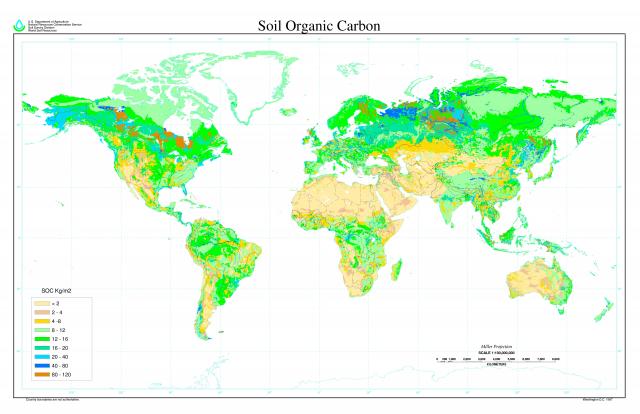 A talajok szerves széntartalma a humusztartalommal, azaz a talaj szervesanyag-tartalmával arányos. Az egyik globális probléma a talajok szerves-anyag tartalmának folyamatos csökkenése.
A Föld talajainak szerves széntartalom adatai 1 méter mélységig értendők, így a négyzetméterben megadott széntartalom tulajdonképpen egy köbméterre vonatkozik.
A térképen alkalmazott skála kg szén / m2 talaj egységben a következő:
Halványsárga: 2 alatt
Drapp: 2−4
Sűárga: 4−8
Halványzöld: 8−12
Zöld: 12−16
Türkíz: 16−20
Világoskék: 20−40
Sötétkék: 40−80
Barna: 80−120


Source of description
Forrás: FAO-UNESCO, Soil Map of the World, digitized by ESRI. Soil climate map, USDA-NRCS, Soil Survey Division, World Soil Resources, Washington D.C.