Source of the photo
http://soils.usda.gov/use/worldsoils/mapindex/popden.html
Author of the description
Gruiz Katalin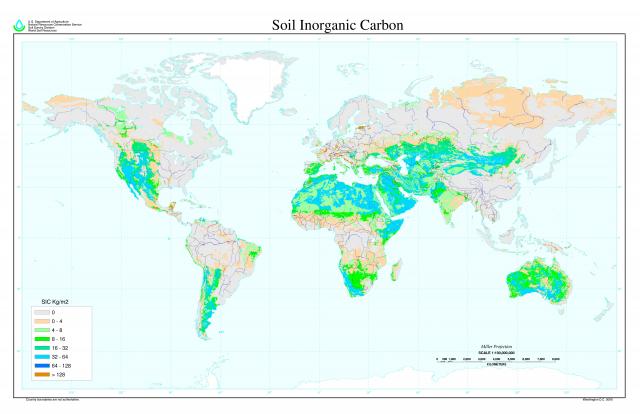 A talajok szervetlen széntartalmát a felső 1 méteres talajrétegben felvételezték a térkép készítéséhez,.
A szíjelölések kg szervetlen szén/m2 talaj értékben a következőket jelentik a térképen:
Fehér: 0
Drapp: 0−4
Halványzöld: 4−8
Zöld: 8−16
Türkiz: 16−32
Kék: 32−64
Sötétkék: 64−128
Barna: 128 felett
Source of description
Forrás: FAO-UNESCO, Soil Map of the World, digitized by ESRI. Soil climate map, USDA-NRCS, Soil Survey Division, World Soil Resources, Washington D.C.